Picture this moment. You are cuddled up by the fire with a warm blanket and your favorite slippers on. You are nestled on your couch, ready to watch a chilly, winter film. But you realize you are missing something…a dessert!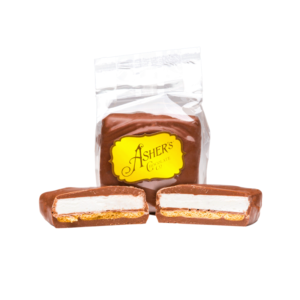 One of our staple pieces is our Jumbo Milk Chocolate S'mores. With its oozy marshmallow and caramel-flavored graham cracker, it replaces the ultimate chocolate bar. With every crunch, your heart will be filled with joy with a smile painted on your face. Keeping this in mind, we found a recipe, inspired by our delicious chocolate treat, that we know you will be obsessed with this winter season! If you love the texture of a warm, soft cookie, then you are going to love this Milk Chocolate S'mores Pie recipe. It has the greatest gooey center with a crunchy edge from baking.
If you want to make this pie ahead of time, you can put it together and just bake it prior to your event or during dinner so it'll be fresh and warm by the time dessert comes around.
*CAUTION: DANGEROUSLY DELICIOUS. MAY CAUSE YOU TO EAT THE ENTIRE PIE. PROCEED WITH CAUTION!
Prep Time: 15 minutes
Cook Time: 45 minutes
Total Time: 1 hour
Ingredients
Unsalted Sweet Cream Butter (1 cup – softened)

Granulated Sugar (1 cup)

Eggs (2)

Vanilla (2 tsp)

Flour (3 cups)

Graham Cracker Crumbs (2 cups)

Baking Powder (2 tsp)

Marshmallow Crème (1 cup)

Chocolate Chips (1 cup)

Chocolate Chu

nks (1 cup)

Mini marshmallows (1 ½ cups)

Optional –

Asher's Jumbo Milk Chocolate S'mores

(chopped into bite-sized pieces)
Baking Instructions
Preheat the oven to 350 degrees.

Prepare a 9" pie
pan with nonstick baking spray. Using a large bowl, beat the butter and sugar until combined, as well as the eggs and vanilla.

Using a large bowl,whisk the flour, graham cracker crumbs, and baking powder until combined. Gradually mix the dry ingredients into the wet. Press about ½ the dough into the pie dish.

Spread marshmallow cream on the bottom of the dough.

Sprinkle chocolate chips and chocolate chunks onto the marshmallow crème. Sprinkle 1 cup of mini marshmallows onto the chocolate chips.

Bake in the oven for 35-45 minutes or until golden brown.

Press the rest of the dough over the s'more pie mixture.

Sprinkle some more marshmallows and chocolate chips over the top of the dough.

Remove from the oven and allow to cool for 15 minutes before cutting.

For an extra special add-on, chop up an

Asher's Jumbo S'more

into bite-sized pieces and sprinkle over the top.

Enjoy!
Please feel free to use this recipe or send it to a friend to make at your next gathering. This isa party favorite, and it will get people raving about the chocolatey, soft marshmallow goodness! Also, be sure to take pictures of your results and post them on your social media. Tag us @asherschocolates for a chance to be featured on our feed.
____
Website URL: https://www.savvymamalifestyle.com/smores-pie-recipe/