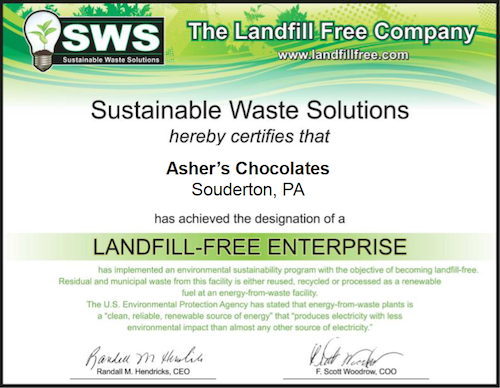 Asher's goes green! Recently, Asher's decided to join the Philadelphia Eagles, Lehigh University, and others in being proactive about the environment. We did this by addressing the unfortunate amount of waste created specifically by our warehouse. By implementing the following solution, Asher's Chocolates is taking a proactive stance to become an environmentally conscious business. We joined Sustainable Waste Solutions (SWS), the leading provider of environmentally friendly commercial and industrial waste handling solutions, to turn Asher's waste into renewable energy.
Waste to Energy
SWS takes waste and creates energy by transferring waste into combustion chambers, reducing it to 10% the original volume. The heat generated in these chambers heats water contained by steel around the perimeter of the boiler. The steam then filters through a turbine and creates electricity.
"Waste to Energy" plants are a clean and reliable source of renewable energy that has a less environmental impact than other sources of energy. This solution reduces the need for landfills, provides energy for other homes across America, and can save us from the amount of crude oil we use. These are all important to Asher's, as we are more than another factory, but part of the local Philadelphia-area community.
According to the EPA, 3,500 acres are lost annually to landfills. If Asher's can do anything to stop that number from increasing, we will. This is the best way for us to help conserve valuable natural resources!