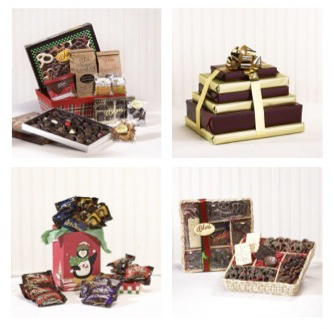 The holiday season is officially here! In addition to all the festive cheer – at least for businesses – that means coming up with corporate gifts. How do you know what to give, how much to spend, and who to give it to? Should you go classic or trendy? Would your clients really want another branded calendar? With an abundance of products online, it can be a downright stressful time.
Asher's makes corporate gifting as easy as possible by offering various gift baskets and gift towers. While Asher's has corporate gifts ready to order, you can get more personal with your gift! You can choose what treats to fill chocolate gift baskets with yourself. There are also Christmas-themed gift options to choose from, such as a milk chocolate Santa pop, peanut butter holiday trees or the ever-popular peppermint bark gift box.
Let us create a gift you will be proud to present to your customers and valued employees. We can incorporate your company's logo or personalized items as well as gift cards and holiday wrapping to match your company's colors. Contact us today to place your order at [email protected] or at 855-8-ASHERS (M-F, 8:30 a.m. – 3:30 p.m.).
Everyone appreciates feeling appreciated this time of year, and whichever way you chose to go, you're pretty much guaranteed to give one of this season's favorite gifts.