Please note that our policies change from time to time. Please read this page for our current policy.
Shipping Policy
All orders will be processed and shipped as soon as possible, within 3-5 business days. Most orders ship next business day. Currently, all orders are shipped via UPS. Please note, during high volume sales, discounts, and promotions, orders may take a few extra days to process. We do not ship on Fridays, Saturdays, Sundays, or Holidays.
For Next-Day Air Shipping, place your orders by 12:00 pm EST (Monday – Thursday) and it will ship the same day. Next-Day Air shipping method ONLY must be selected as the shipping method for this option.
Please note that we cannot ship to P.O. Boxes or APO boxes. You must provide a street address for your order. Be sure to include appropriate suite or apartment numbers when necessary to ensure proper delivery.
We ship exclusively with UPS and transit times vary depending on the destination and the temperatures there. Please see the map for the estimated number of days it takes to ship UPS Ground from Asher's Chocolate Co. once it leaves our facility.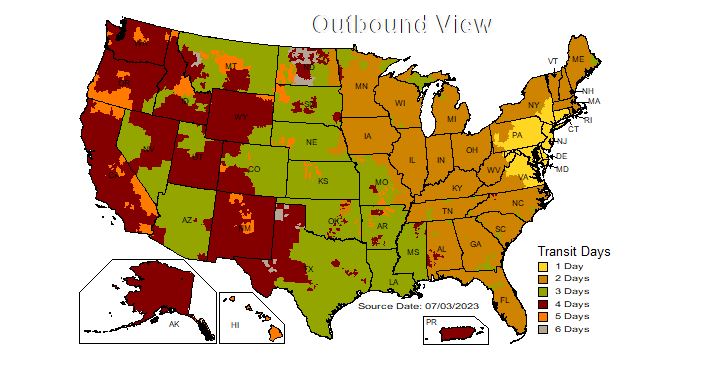 Temperature
Asher's takes special care of your chocolates being shipped to areas with temperatures above 68 degrees by carefully packing them with reusable ice packs in an insulated case. Depending on national temperatures, transit times, and destination, we may be able to ship on Fridays between the months of November and February only. To ensure your package arrives fresh and in perfect condition, we do not ship on Fridays during warm weather months of the year.
Lost or Stolen Packages
Asher's Chocolate Co. is not responsible for lost or stolen packages confirmed to be delivered to the address entered for an order. Upon inquiry, Asher's Chocolate Co. will confirm delivery to the provided address, date of delivery, tracking information and shipping carrier information for the customer to investigate.
International Orders
Asher's Chocolate Co. currently does not ship internationally. Hawaii and Alaska residents may select 1- or 2-day shipping.
Incorrect Shipping Information
During the fulfillment process, we do our best to contact you if we happen across an "undeliverable address." We define an "undeliverable address" as one that is not recognized by the UPS shipping system, and therefore would not be delivered by UPS upon reaching the location. However, Asher's Chocolate Co. is not responsible for incorrect shipping information provided by the customer. As a result, if an undeliverable address or inaccurate shipping information is provided, Asher's is not responsible for the unreceived item.
If UPS is unable to deliver an order based on inaccurate information provided by the customer, the package is disposed of by UPS. In the instance that the customer would like the package to be redelivered, they must place a new order.
PLEASE DOUBLE CHECK ALL SHIPPING INFORMATION PROVIDED to ensure there are no typos or inaccuracies in the shipping information to avoid the disposal of your order in the instance it is undeliverable. Note: P.O. Boxes and APO Boxes are not acceptable shipping addresses and therefore are not recognized by UPS to deliver to.
If you have any questions pertaining to shipping options, please call us at 855-8-ASHERS, option 3, and we would be glad to assist you.