It's that time of the month again where we highlight an employee that has demonstrated exceptional performance and work ethic. This month we would like to introduce our employee highlight David Foster!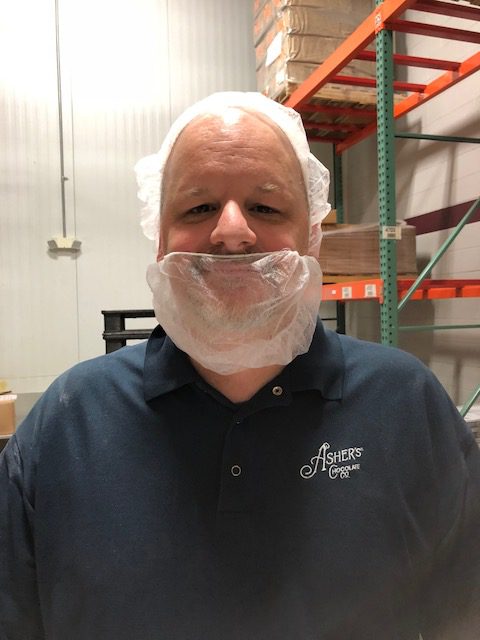 David has been working at Asher's Chocolate Co. since 2010 in our receiving department. He has been a wonderful contributor to our team! He has demonstrated this particularly through his diligence regarding safety. When making a decision, this employee highlight has been incredibly conscious about how it will affect safety.
For example, we are always working to improve our efficiency.  Recently, we had been discussing the benefits of ordering 100 lb. bags instead of 50 lb. bags of ingredients. This change may seem like a great idea on paper, as it would lessen the amount of times a bag would need to be grabbed. However, David looked at it from another angle. He brought up the point that it would be too strenuous on a person's back to lift 100 lb. bags instead of 50 lb. bags.
David has also made efforts to improve our current processes. An example is that he lifted our bags of ingredients off the ground, setting them up on a pallet. This allows for our cooks to not bend to lift the heavy bags, adding strain to their backs.
Lastly, David has been actively ensuring that our employees are properly trained in equipment use. In preparation for an upcoming forklift training, David took the initiative to contact the forklift company to make the proper adjustments for training needs. This allowed him to accurately prepare for training sessions, leading to a better training session and a safer environment.
We could not be happier to have such a considerate member on our staff. Thank you so much David, and great work!