That moment when you realize summer is over and school is back in session! It's the time to get back into morning routines and make sure the kids wake up in time to catch the bus. We know that children look forward to their lunch break because that's their time to socialize with friends and get to eat. If you're a "packing" type of crew that enjoy putting together lunches for the little ones, we wanted to share some ideas of back-to-school snacks that we know they'll love! This way, you know exactly what your child is eating, and they'll be able to look forward to their lunch every day.
Chester's Critters (Milk Chocolate Animal Crackers) – They come in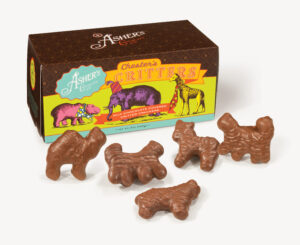 a variety of packaging such as a fresh pack, snack box, and a coffee bag so they'll fit in any type of lunch box. We already know animal crackers are just like chips, you can never have just one. So why not have it coated in delicious chocolate? 
Sugar Free Peanut Butter Bars – These little bars are the perfect portion for a lunch snack. After you're finished with your sandwich and fruit, it's a great dessert for a boost of energy, and happiness! Plus, it's super tasty and inviting to those with dietary restrictions. This way, everyone can have a dose of Asher's! Sugar free or not. 
Dark Chocolate Pretzel Pail – This is such a popular item of ours. Did you know that through the production line, we get a portion of pretzels that break in the process? But we make sure
to keep every piece possible and serve as good use. In this case, we continue to coat the broken pieces and place them in a bucket that can be served as plenty of portions. It's easy to store the pretzel pieces in a Ziploc bag in their lunch box, that way it's at a controllable portion. Your child can take smaller bites because of the piece size and the pail is big enough for multiple lunches! How convenient is that? 
Individually Wrapped Milk Chocolate Graham Crackers – These are simply one of the best! The individually wrapped chocolates are always handy for on-the-go purposes. They serve the perfect portion, that way your child can bring some for a friend if they would like. It's also a great pick-me-up between the crunchy, sweet graham cracker coated in our delicious, creamy milk chocolate. 
Coconut Clouds – If your child is a fan of coconut, chocolate, and just about anything sweet, they're going to love these
round clusters of joy! This round candy is filled vanilla marshmallow and caramel, dipped in dark and white chocolate, then coated with sweet, flaky coconut. There are enough clouds in a cello bag to have some for lunch, then later after dinner for an amazing dessert experience! It's truly the ultimate snack that has a little bit of everything, so it hits every sweet spot.