Spring has sprung and the Easter season has begun! We're all excited to wake up on Easter morning and see the look on our child's face to all the exciting goodies in their Easter basket. In case you're stuck in a rut and aren't sure what exactly to place in your basket, we've curated a list that will help get those creative gift juices flowing. 
1. Jumping Rope – It's a fun, outdoor activity for all the kids in the neighborhood! You can grab one small enough for your child to learn some new tricks or one big enough to play "Monkey in the Middle" or "Double Dutch" (if you have 2). 
2. Sidewalk Chalk – This is always a great gift for a little one. It's an artsy tool for a creative outlet, and they get to decorate the driveway/sidewalk with fun drawings, hopscotch, silly names, etc. Most boxes come in a large variety of colors, so they'll have many to choose from. 
3. Playdough – One of the best, simple muscle stimulus activities. Your child will have the capability to build whatever they d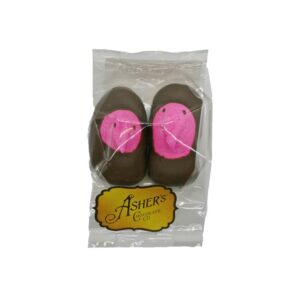 esire! It's squishy, molds well, and can bend in many directions. It's also fun for adults! 
4. Peeps – The most notorious Easter candy, dipped in a bath of luscious milk chocolate! It wouldn't be an Asher's favorite for Easter if it wasn't covered in chocolate, right? Offered in yellow, pink, and blue, we'll have just the right one for you! 
5. Notepad & Crayons – Having a notepad and a box of crayons is always a fun, creative activity for the young ones! Doodling is always fun and gives a sense of creative imagination. 
6. Chester's Critters – You take a child's favorite snack and drop it in a sea of chocolate. Can you think of anything better? These cookies come in a box that is easy to store and will last a while. It's always a fun treat to have around the house! 
7. Asher's 24-Count Peanut Butter Eggs – This is an egg-cellent addition to any Easter basket. Chocolate and Peanut Butter = best candy combination. Or at least one of them (we can't decide). These eggs are essential in every Easter basket!
Peanut butter, smothered in delicious, sweet chocolate, in the shape of an egg. It's the ultimate Easter gift every child will love! 
8. Coconut Cream Window-Box Eggs – These adorable chocolate eggs are nestled in a transparent box so it can be love at first bite! Our Coconut Cream Eggs are essential for the Easter season. We offer them in a 4 oz and 8 oz box, wrapped in milk and dark chocolate. Nom Nom! 
9. Sticker Books – Who doesn't love stickers? They're fun to place on paper, on the couch, on your dog…just kidding! But kids in the 3-5 age range are the perfect age for them. You can create an entire story in a notebook! 
10. Easter Mini Pretzels – These adorable milk and dark chocolate pretzels come in a 4 oz. bag of happiness! Decorated with pink and yellow string, these make for the perfect addition to any basket!
Pre-Made Baskets Available!
All these goodies will make your Easter basket an egg-cellent one for your kiddo(s). Of course, if you are the type of individual that would rather grab something already made up for the holiday, look no further than Asher's Easter Baskets! Varying in size and price, we're sure we will have the right option for you. Hoppy Easter!