It's 2022 – and this year marks the 130th Anniversary of Asher's Chocolate Co.!
In honor of this milestone anniversary, we are kicking off an entire year's worth of celebrations and events. To start it a
ll off, Asher's held an Influencer Night on Thursday, September 15th at Alimentari at Di Bruno Bros. Partnering with Alimentari and Di Bruno Bros was a no brainer, as their long-standing presence in Philadelphia and high-quality reputation matched Asher's history and was the perfect fit.
Asher's invited a guest list full of Philadelphia-based food influencers, members of the media, and friends of the family to celebrate with them during this night of lavish and abundance. The night started at 6pm, with each guest greeted with a custom Chocolate Strawberry Negroni. As they turned the corner, a charcuterie of meats and cheeses were arranged for guests to snack on. Asher's Chocolatiers manned a Strawberry Dipping station, hand-dipping fresh, juicy strawberries in front of the guests while Di Bruno Bros staff poured chilled prosecco to accompany this sweet treat. The bar was also offering custom chocolate-themed mix drinks to add to the theme of the night.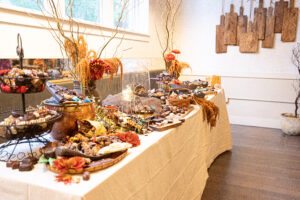 Scattered throughout the space were chocolate displays with showstopper pieces, like giant 2lb. Chocolate Bars, copper kettles, and antique moulds. However, the centerpiece of the event was a large 10ft Display, designed by food stylist Karen Ferries, with a smattering of colors, flavors, shapes, and sizes, showcasing Asher's extensive product offerings.
This event wasn't without its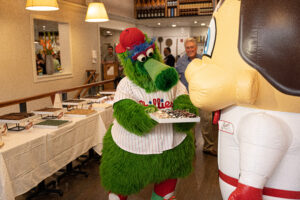 excitement and shenanigans either – Asher's debuted its new mascot, Jerry Cordial! Jerry was a huge hit, and even received special mascot lessons from a truly special guest, the one and only Phillie Phanatic!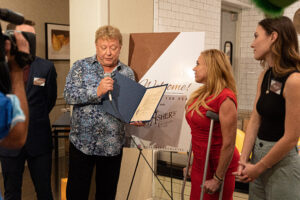 In addition to the celebrations, the 4th and 5th Generations of the Asher Family were presented with an Official Mayoral Citation wishing Asher's Chocolate Co. a Happy 130th Anniversary by Sheila Hess, Philadelphia City Representative, on behalf of Mayor Jim Kenney and entire city of Philadelphia.
After a full night of celebrating with amazing food and drink, all guests left with their fill of Asher's chocolates and a Swag Bag filled with Asher's branded goodies!
We thank all that came out to celebrate with us, as well as all our customers and consumers for allowing us to reach this huge anniversary. Here's to another 130 years!