After dinner, everyone is digesting their food, but we all know that you can always go for a 2nd round. When it comes to dessert, which is your favorite? A sweet, delectable bite of pie? A fudgy, warm cut of a brownie? Or how about a cold, frozen ice cream sundae topped with delicious treats? Wow, those sound tasty! With all these exciting dessert options, leave it to Asher's to pair the best of the best. It will broaden your taste buds to not only grab the dessert dish, but a small treat that blends so well in your mouth, it'll have your taste buds craving more! We've collected a few popular desserts that pair so well with our unique, one-of-a-kind chocolatey deliciousness we know you will love! 
Pie 
      No one can turn down a beautiful slice of Key Lime, Apple, Blueberry, Pecan…you name it! There are tons of options when it comes to what is filled in that delicious, crunchy crust! For any pie that might be available at your party, holiday event, whatever it is…we highly recommend adding in a few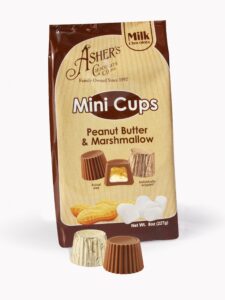 additional touches to sweeten up your night!  
      Our Milk Chocolate Mini Peanut Butter and Marshmallow Cups are a mouth-watering sensation! They come in an 8 oz. Bag filled with approximately 18 individually wrapped pieces. The shiny brown foil lets chocolate cravers know the flavor of the piece about to be enjoyed. Upon first bite, your taste buds will explode with a nutty and smooth peanut butter center atop a cloud of fluffy white marshmallow. Asher's signature milk chocolate shell enhances the sweetness of the creamy filling.  
      Another flavorsome piece we recommend, especially with the fruit pies, is our Milk Chocolate Raspberry Jellies. They are offered in a 1lb. Box online at Ashers.com or you can purchase them from our Souderton and Lewistown Retail stores by any lb. that you'd like! A candy that has a gooey, jelly-like center, wrapped in a blanket of sweet milk chocolate will send your taste buds to the roof! A mouth-watering sensation that will leave you eating the whole box! 
 Brownie 
      We know you got excited just reading that. Brownies are known for flipping anyone's day upside down. There's nothing better than biting into a warm, soft piece of gooey, fudge squares that will leave you in a chocolate coma! And to think when it couldn't get any better, Asher's has recommendations to step up the baking game and leave your friends and family begging for the recipe! 
      Our Milk Chocolate Peanut Butter Smoothies are not just your typical piece of chocolate. One bite into the liquid, smoothie of peanut butter will tell you all you need to know about the candy. It's a melt-in-your-mouth type of dessert that will blend so well in your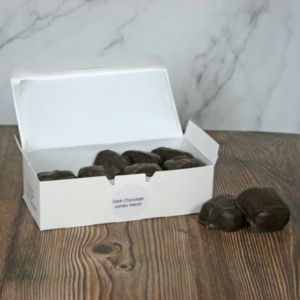 brownies! They are sealed up in a 4 oz. Bag that holds a generous number of treats that can be shared or eaten all at once! 
      Asher's Milk and Dark Chocolate Jumbo Marshmallows are the perfect classic confection for your taste buds! Fluffy jumbo marshmallows enrobed in an extra thick coating of Milk or Dark Chocolate is sure to make your mouth water! Adding these jumbo treats will definitely be a great addition to your typical brownies, or even Rocky Road Brownies! 
 Hot Fudge Sundae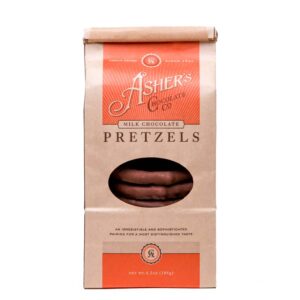 These are a classic treat for any birthday party or a special treat after a big occasion. Although the sundae stands alone as its own delicious dessert, we found that spicing it up with some Milk or Dark Chocolate Smothered Pretzels just makes it that much better! You got the ice cream, drizzle of hot fudge, whipped cream and with the cherry on top, a pretzel sits so nicely nestled into the whipped cream for a crunchy twist to your favorite dessert! 
 Chocolate Chip Cookie 
      This dessert is the one that never fails on any occasion. As soon as you smell the cookies come out of the oven, just slightly undercooked, it's hard to wait for them to cool down before you grab a big bite. And although these cookies are a simple, delicious treat, we figured adding a few chocolate suggestions might make you the life of the party! Our Milk Chocolate Mini Peanut Butter Cups amplify any dessert that you're offering. The nutty peanut butter, wrapped in creamy milk chocolate will give you the perfect blend of happiness with every bite! These mini treats are available at our Souderton and Lewistown Retail stores for purchase.