In honor of National Candy Month, we recently sat down with our Souderton Retail Store Manager, Emma Hodgson, to ask her some questions about our retail store and her experience with Asher's.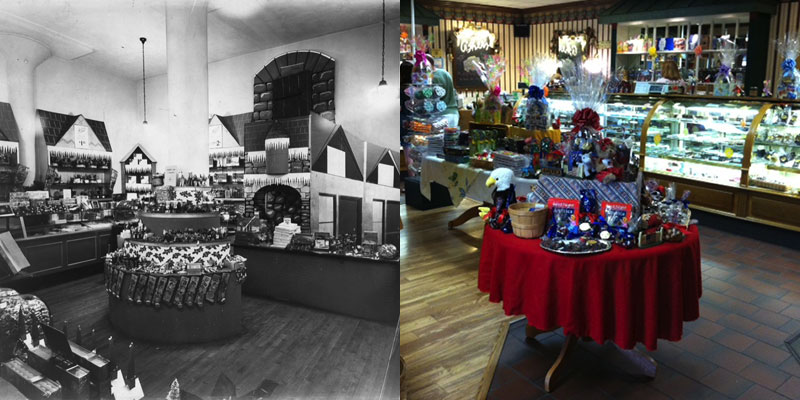 Emma first started working at Asher's, October 31, 1998. While she didn't dress up for Halloween, she definitely might have had a touch of black nail polish and sparkles in her hair from a party the night before. Emma remembers thinking on her first day "I get to work with candy all day long!" Coming from the insurance industry, it was quite a welcome change. While guests are not allowed on the factory floor, a 100' viewing corridor offers a birds-eye view of candy moving along the belt and passing through a constant flow of chocolate. One can also come and enjoy a self-guided multi-media tour explaining the process of making our delicious treats.
When asked the most rewarding aspect of being a part of the Asher's team, Emma replied, "being a part of a family–run business because I truly feel like part of the Asher's family". She also loves her employees at the retail store and the dedication they have to Asher's. Emma's employees have been at Asher's anywhere from 5 to 14 years. "That's a lot of loyalty to have from employees in a retail store." Being at Asher's 14 years, Emma has had the joy of giving many children their first piece of candy and she enjoys listening to people tell why they must have Asher's chocolate.
Read on for more information about Emma's favorites and how the Asher's retail store came to be.
Q: Which Asher family member decided a retail store would be a good idea? Why?
E: In 1892, Chester A. Asher founded his candy making business after coming to Philadelphia, from Canada, just two years earlier. The company began in center city Philadelphia, moving to its former location in historical Germantown.
Mr. Asher's expertise was passed on to the second generation – four sons – who ran the business until 1966. C.A. Asher is still family owned and under the direction of the third and fourth consecutive Asher generations.
Q: What is your favorite time of year to work in the store?
E: Favorite or busiest? The busiest time of year is definitely Christmas, followed by Easter. My personal favorite though, is Fall. I love decorating for Fall, the hustle of back to school and the planning that goes into everyone's Thanksgiving dessert table. Every table needs a chocolate turkey!
Q: What is your favorite item to carry in the store?
E: It's too hard to pick just one! I love selling our nonpareils because we sample them in the store and they put a smile on everyone's face.
Q: What is the most popular item in the store? Which item is bought the most?
E: I would say Chocolate Covered Pretzels are both the most popular item in the store and the item that is purchased the most. Following that would have to be our new Sea Salt Caramels. They have quickly become a fast-selling item.
Q: Are there special products that are sold only in the store?
E: An exclusive retail store item that is a big hit is our "hurt" candy. The "hurt" candy (factory seconds) got hurt along the way by either having too much chocolate or two pieces are stuck together, or some other reason that they don't meet our first quality selling standards. We don't mail these or sell them online because they go so quickly. You have to visit our store to get this deal!
At the store we also sell loose chocolates, which are not available online. You can create your own pound of mixed chocolates, including Dark Chocolate Caramel Marshmallows, Milk Raisin Clusters, White Chocolate Almond Bark, Dark Raspberry Jellies, Milk Chocolate Lemon Creams, Dark Chocolate Sea Salt Caramels and more! There are SO many choices!
The "Hurt" candy is great though – especially for our walk-in customers. What could be better than candy right off the line! Yesterday I actually got really lucky and saw we had some caramel truffles in the "hurt" candy. That's was so rare I had one for an afternoon snack and it was delicious!
Q: What is the busiest day of the week for the store?
E: Thankfully everyday is busy for us but Friday is by far the busiest and the craziest. Now that we have switched to our summer hours, customers come in on Friday and stock up on candy for the weekend.
Q: Is there a strong preference for Milk, Dark or White chocolate in the store?
E: I would say that Milk and Dark Chocolate sell pretty evenly in our store, while White chocolate is a distant runner up.
Q: Which yearly Asher's event is your personal favorite?
E: While our Easter Egg Hunt is nice and fun for families, our Annual Fall Festival is really my favorite event. It occurs the last Saturday in September and we have live music, face painting, clowns, magicians, moon bounces, free drinks, hot dogs, raffles for chocolate and other goodies. Also, our Fall Festival is FREE and fun for all ages. We have everyone from newborns to great grandmothers come and everyone always has a great time!