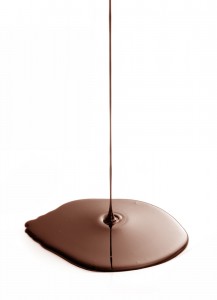 Asher's takes great care in crafting our delicious chocolates, so we wouldn't want it to melt or spoil before it gets to you. That's why we take the extra time to package and ship your chocolates in the best way possible.
Shipping chocolate is a delicate process. So, just like the local weatherman, we wake up each morning and check the weather where each delivery is headed.
If it's 70 degrees or hotter where your chocolate is headed, we're already taking extra precautions to get it to you safely.
All orders placed before noon will ship on the same day. When the weather is warm, we wrap your chocolate in insulated ice packs. The ice is carefully kept away from the chocolate to prevent blooming. Blooming is the chalky white coating that happens when chocolate gets moist. It is still safe to eat, but rather unappealing, so we avoid moisture and condensation as much as possible!
Next, we tuck your chocolate into bubble wrap for stability. Sometimes more packing material is needed so the ice won't have a chance to melt and damage the cardboard box
So, no matter if you choose ground shipping or next-day delivery for your Asher's order, by the time it reaches your home, your gourmet chocolate is still fresh and in perfect condition.
Our customers agree!
Jane M. raves, "Quick, safe delivery fortified with a cool pack in the case of hot weather which could melt the chocolate. Reasonably priced for the quality of the product."
Robert B. says, "Very impressed with how the product was shipped."
We're happy to go the extra mile to ensure customers like you get the quality chocolate you deserve. Purchase an order today and keep a look out for packages like this coming your way: