Asher's fans truly are the best!
We received the most endearing letter last month from an Asher's customer about our chocolate bunnies. Beth Ziegler wrote in to thank us for the giant chocolate bunny her sons won in our contest last Easter.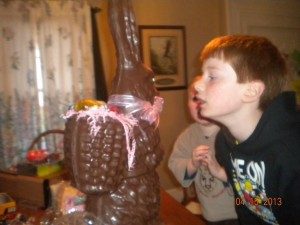 Beth tells the story best:
"I wanted to send my sincere gratitude for the 25-pound Milk Chocolate Bunny that was won by my brother, Bill H., last Easter.
I actually remember seeing it on display and thought, 'Wow, that bunny is HUGE. I wonder who is going to win that." I never dreamed it would soon be coming home with me!"
Beth goes on to tell us how she kept the solid chocolate bunny on display before discovering little nibbles in inconspicuous places. So she stored him in the freezer, taking pieces out throughout the year to share with friends.
We're so glad our big guy got so much love and filled so many bellies! More importantly, we love that Beth took the time to write us and share photos of her family enjoying our chocolate.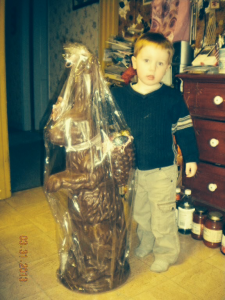 We love to hear from you, too. Especially to see those chocolate smiles!
Want to find more Asher's candy in your Easter basket?
Find a fresh batch of chocolate bunnies today!