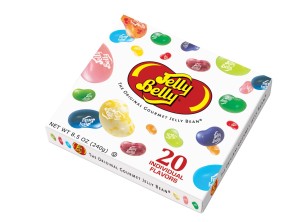 Here at Asher's we love chocolate, but we also love all delicious treats! Like jelly beans! How sweet is it that today is National Jelly Bean Day?! How did the colorful little sugary confection come to such national prominence?
(And no, we don't mean the ever-present jar on President Reagan's desk!)
In Jelly Beans We Trust!
Today's jelly bean is thought to share a family tree with a Middle Eastern confection known as Turkish Delight, a dessert of soft jelly covered in confectioner's powder that dates back to Biblical times. The National Confectioners Association traces the shell coating to a process called "panning" that was first used to make those yummy Jordan almonds back in 17th century France. French confectioners would fill a large bowl with sugar and syrup and rock almonds in it until they achieved the candy shell coating they desired.
While a machine called an "engrossing pan" does the rocking and rotating today, the process is much the same. Master confectioners oversee the process, adjusting the mixture of sugar, color, and flavors, making the perfect shell and inner bean. A dip into confectioner's glaze for shine, followed by up to four days of polishing, and the beans are ready!
The Great Jelly Bean Migration
Back to our history lesson. The jelly bean migrated to America, where historians believe it first appeared in 1861 with Boston confectioner William Schrafft. He urged customers to send morale-boosting care packages of his jelly beans to Civil War soldiers.
Jelly beans then joined the jars of "penny candy" that many of our ancestors knew and loved. A July 1905 advertisement in the Chicago Daily News priced the candy at 9 cents per pound.
In the 1930s, the little candy became associated with Easter and the Big Bunny, symbolizing rebirth and renewal of springtime. We wonder what children in the 1930s would think of Asher's Jelly Belly Baby Carrot Bag stuffed full of zesty tangerine bites? Would little girls swoon over the personalized Disney Frozen Jelly Bean Bag filled with Sparkling Berry Blue, Sparkling Blueberry, Sparkling Cream Soda, and Sparkling Grape Soda?
New Jelly Belly on the Block
Jelly Bellys were created in 1965 when the Herman Goelitz Candy Company infused their Mini Jelly Bean center with flavoring. This was a very innovative move because prior to this, only the shell had contained flavoring. The very first eight flavors were Root Beer, Licorice, Green Apple, Cream Soda, Lemon, Tangerine, Very Cherry, and Grape. By the 1980s, there were 40 flavors. Currently, Jelly Belly produces 50 official flavors along with several specialty collections.
Ronald Reagan discovered the Mini Jelly Beans in 1966, with a special fondness for the licorice flavor. For Reagan's 1981 inauguration, Jelly Belly shipped two-and-a-half tons of jelly beans to Washington. President Regan sent the first jar of jelly beans into space as a surprise gift to the 1983 Challenger astronauts.
Jelly Belly dropped the Goelitz family name in 2001. It was at point they became The Jelly Belly Candy Company, the world's number one gourmet jelly bean manufacturer. Can you believe that in the United States, more than 16 billion jelly beans are produced each year in preparation for Easter?
No matter what you are celebrating on April 22, it's a great day to honor the longstanding love affair the nation has enjoyed with this colorful piece of candy. Here at Asher's, we're going to pop open one of our Jelly Belly Ultra Gift Boxes and savor the gourmet goodness of flavors like bubble gum, buttered popcorn, coconut, strawberry cheesecake, and toasted marshmallow!