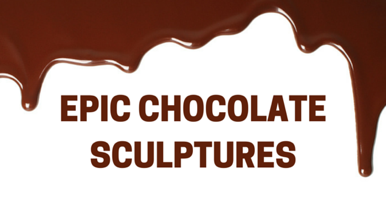 Chocolate is well-loved around the world. However, in addition to simply eating chocolate, there are other ways to enjoy the tasty confection. We've gathered a list of the 10 most epic sculptures around the world, all made of chocolate!
1. Chocolate Temple in California
Firstly, the world's largest chocolate sculpture was crafted by the Qzina Institute of Chocolate & Pastry. Located in Irvine, California, the sculpture is a realistic replica of the ancient Mayan Kukulcan temple. Mayan culture played an essential role in the creation of chocolate, making this sculpture particularly significant. In fact, the Mayans worshipped the cacao tree, believing that cacao bean was the food of the gods.
2. Chocolate Train in Brussels
Secondly, Maltese chocolate artist Andrew Farrugia created this chocolate replica of a steam locomotive. It is 111.5 feet long and weighs 2,755 pounds. Even more, the extreme detail and precision shown on this sculpture attest to the artist's exceptional talent. Andrew Farrugia also carved a grand piano entirely out of chocolate that showed every intricate detail of the instrument.
3. Chocolate Obama in Orlando
A chocolate bust of President Obama is on display at Orlando, Florida's World of Chocolate museum and Cafe. People credit this work of art with beginning the current trend for sea salt caramel.
4. Chocolate Lionel Messi in Lieda, Spain
Furthermore, a life-sized chocolate stature of Lionel Messis pays homage to soccer superstar in Lionel Messi in a pastry shop in Spain. Shockingly, the sculpture weighs 254 pounds. In fact, this is more than the soccer star himself weighs.
5. Chocolate Stonehenge in Hong Kong
Moreover, Italian sculptor Mirco Della Vecchia crafted a realistic chocolate Stonehenge for the Chocolate World Heritage exhibit in Hong Kong. He used white chocolate to craft the sculpture, and the detail is phenomenal.
6. Leaning Tower of Pisa in Hong Kong
In addition to Chocolate Stonehenge, a chocolate Leaning Tower of Pisa is also displayed at the Chocolate World Heritage exhibit in Hong Kong and is extremely realistic.
7. Chocolate Benedict Cumberbatch in London
Finally, the film and television actor and producer had a life-sized statue created by sculptor Jen Lindsay-Clark to promote a new television channel called "Drama." Amazingly, this pure cocoa sculpture took a team of eight artists over 24 days to create.
As you can see, the world of chocolate goes beyond being a simple buy delicious treat! As chocolate lovers ourselves, we're ecstatic about the use of chocolate in works of art ranging from the classics to Benedict Cumberbatch!