For over four generations we've been developing delicious chocolate covered treats for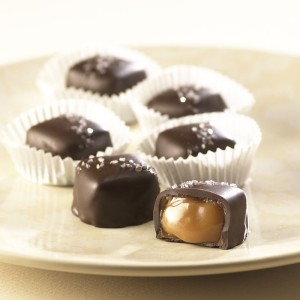 our customers.While most companies eagerly look forward to their future we can't help but look back and appreciate our past. That is why we've decided to put together a list of some of the best chocolate covered treats from 2014. You'll find listed below what we believe to be representative of our customer's finest chocolate experiences. Enjoy!
Milk Chocolate S'mores
If you can't find your way to a campfire to cook up some classic s'mores than we've got the next best thing for you. Our milk chocolate s'mores are filled with oozy marshmallow and crunchy caramel graham cracker. The whole treat is coated in creamy milk chocolate that will leave you reaching for another before your first bite is down!
Dark Chocolate Almond Bark
Like peanut butter and jelly, some treats were just made to be together. That is why we've seen our dark chocolate almond bark become one of the most popular items in our store. This treat expertly mixes the delicious crunch of almond with the smooth and slightly bitter bite of dark chocolate. With a glass of milk at your elbow this treat can be downright decadent.
Dark Chocolate Sea Salt Caramels
Eating the same old treats can get tiring and that is why we always try to push the envelope with some of our tasty confections. Our dark chocolate covered sea salt caramels will assuage both your need for the salty and the sweet in one creamy bite. The chewy caramels inside are vanilla flavored and subsequently dipped into our completely homemade dark chocolate. To finish the treat off we sprinkle a dash of sea salt on top. The different layers and levels of this chocolate make it a perennial favorite around our office.
Chocolate-Dipped Pretzel Rods
Continuing the string of salty-sweet treats will lead us to our chocolate dipped pretzel rods. These treats are perfect for the holidays as they are beautifully designed and replete with colorful sprinkles and markings. These crunchy rods are particularly tasty when added to milkshakes or ice cream!
Milk Chocolate Covered Graham Crackers Caddy
Graham crackers are pretty much delicious, all of time. The only way we can imagine graham crackers tasting any better would be if they were coated in our signature milk chocolate. We have a double layer of our creamiest chocolate on top of the crispiest, crunchiest, crackers we could make. Almost like cookies, these chocolate covered crackers will put a smile on your face and a 'Mmm' in your throat.
Chocolate Covered Potato Chips (Dark or Milk)
Our next delicious snack comes in two different varieties to make sure that your taste buds have a choice. We offer both milk chocolate and dark chocolate potato chips in 8.5oz bags. These chips are the perfect amalgam of that salty and sweet taste. Our chips are thick cut and give off that mouth-watering crunch with every bite. The saltiness of the treat is smoothed out by the creaminess of the chocolate.
Mini Chocolate Covered Pretzels (Dark or Milk)
Our last eat-by-the-handful treat is our dark chocolate covered pretzel. These thick and crunchy pretzels can be purchased in 6.5oz bags. They are coated in your choice of dark or milk chocolate and they offer you that perfect blend of sweet and salty that goes oh so well with a glass of milk.
It seems like the general consensus is that our snacks should be treated like guilty pleasures. Instead of secretly reaching for some potato chips or cheap chocolate, take pride in your afternoon snack. The chocolate filled treats above will taste great and leave you filled with contentment. Visit Asher's online today and start snacking!