Each year, we get excited for Springtime and Easter, looking forward to warmer weather, budding flowers, and some special treats in our Easter baskets! But where did the idea of Easter chocolates and baskets come from?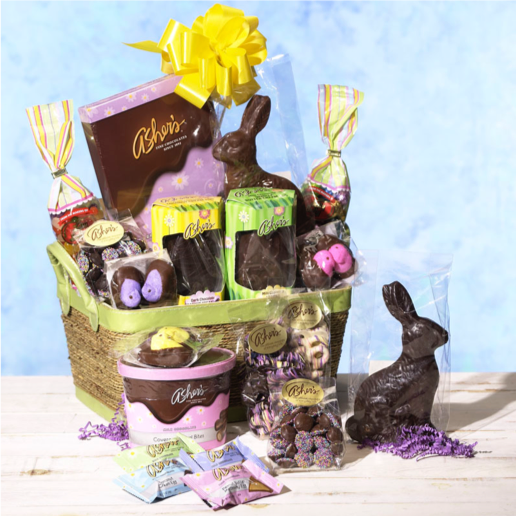 The Easter Bunny brings these baskets to mark the end of Lenten fasting, giving us some special goodies to feast on for Easter. Traditionally, these baskets are filled to the brim with the perfect indulgence: chocolate! Here at Asher's Chocolates, we take pride in making Easter classics that will surely put a smile on your face. Keep reading for classics that are not only delicious but are beautiful and will make the perfect Easter chocolates gift or basket-filler!
1. Chocolate Bunnies
Perhaps the most popular and recognizable Easter treat, solid and hollow moulded chocolate bunnies are a must for your Easter basket. Ranging in size, shapes, and type of chocolate, the adorable bunnies are fun and yummy. Kids and adults alike will love how festive and stunning these treats can be!
2. Milk Chocolate Dipped Peeps
Nothing says "Springtime" and "Easter" like Peeps! And why not make them even better by dipping them in our creamy milk chocolate? Peeps are an Easter staple, and no basket is complete without these colorful, sugary chicks.
3. Classic Filled Eggs
Our 1oz., 4oz., 8oz., and 16oz. filled eggs have been a must for Easter baskets for decades. These gorgeous treats are the height of indulgence and will satisfy any sweet tooth. Available in several sizes, these eggs are large enough to share, if you even want to! We even have a wide range of flavors, from Peanut Butter to Coconut Cream. With so many options, there is one for everyone!
4. Nonpareils
Nonpareils are not only the perfect day-to-day snack, but they also make a beautiful Easter goody! Our Easter milk and dark chocolate nonpareils are decorated with colorful pastel candy seeds; not to mention they brighten up this classic standard. So delicious, you may just want to hide them from the kids!
5. Mini Chocolate Smothered Pretzels
Another one our classics that has had an Easter makeover is our Mini Pretzels! Adding festive pastel striping transforms these everyday classics into the perfect addition for an Easter basket. Sweet and salty, our pretzels satisfy every craving and taste like Springtime!
Overall, Easter is swiftly approaching, and we all look forward to our baskets full of goodies. No matter what, you can count on Asher's Chocolate Co. to have all of the classics your looking for, as well as new twists on old favorites. Moreover, we can make your Easter chocolates baskets for you, including all of the tasty classic you want! Be sure to stock before these seasonal treats are gone by calling us at 855-8-ASHERS or visiting us online at ashers.com!