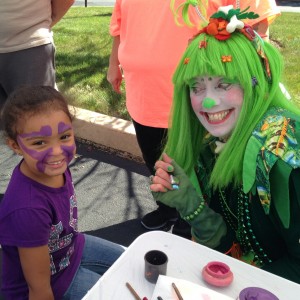 We planned a Fall Fest and we got a Summer Spectacular! This past weekend, Asher's Chocolate held the 17th Annual Fall Fest! It turned out to be a beautiful day filled with laughter and fun.
The Manatees entertained the crowd with songs that encouraged all ages to tap a toe or do a little dance. Asher's mascots, Twist and Mr. Jelly Belly, got in on the fun, making their rounds throughout the day. The magic of Dick Gustafson, Wandering Magician, mesmerized onlookers, both young and old.
The festival was located at the Asher's Chocolates facility in Souderton, PA. This annual festival has been important to the Eastern Pennsylvania community for 17 years. The chocolate company draws neighbors of all ages throughout the area to celebrate the chocolates made by the Asher family for four generations. The company's close-knit group of employees are still treated like family. As a result, they are usually the first to promote the festival fun to the community each year.
We were delighted to see so many new faces at the festival this year, many of whom were painted throughout the day, thanks to Wink and Dandy, the face-painting clowns!
While families enjoyed playing with sidewalk chalk and bouncing in the moon bounce, we gave away thousands of hotdogs, lots of lemonade, and plenty of iced tea to keep everyone refreshed and satisfied.
We give thanks to SWS (The Landfill Free Company) for bringing their big truck to Souderton for the kids to explore. Additional thank to All My Children for making crafts with the kids. Smiles on the childrens' faces made all the effort worthwhile. We can't wait until next year's Fall Fest! Hope to see you there.