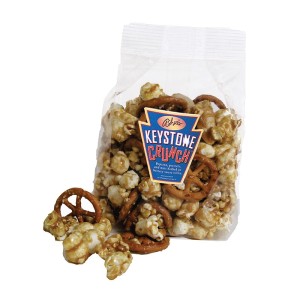 Doesn't it feel like summer comes earlier to the movie theaters every year? Many summer blockbusters now make their debuts in early May. This got us thinking about some of our very favorite movie chocolate treats.
What do we most like to munch on while immersing ourselves in some out-of-this-world fantasy, courtesy of the big screen?
We think these are perfect pairings between Asher's delicious confections and a few of the most anticipated summer of 2015 movies.
Chocolate Covered Potato Chips, Of Course!
Did we drip our chocolate onto your potato chip, or did you dip your potato chip into our chocolate? Who cares — as long as they keep coming! This bold concoction from Asher's takes thick-cut rippled potato chips and slathers them with your choice of milk or dark chocolate. The perfect combination of crunchy, salty, and sweet decadence!
We suggest pairing an 8.5 oz. bag of Asher's Chocolate Covered Potato Chips with the May 1 release of "Avengers: Age of Ultron." In our eyes, if you can eat just one, you are a super hero!
Pretzel Bite Trio – Why Choose?
Is it hard for you to decide between dark, milk, or white chocolate? Deliberate no more! This tray of bite-size pretzels offers the best of all chocolate worlds: creamy milk, velvety dark, and luscious white chocolates. What could be better than salty, fresh, crunchy pretzels coated in the smooth texture of the chocolate(s) of your choice?
These pretzel bites are so good that they're scary! We recommend that you bite on these goodies instead of your fingernails while watching Steven Spielberg's "Jurassic World" crash into theaters on June 12.
Keystone Crunch – Made for Each Other
Where's the popcorn? Right here! But this is not your generic theater popcorn. To create our Asher's Keystone Crunch, we first blend salted popcorn with pretzel wheels and assorted nuts, and then we bathe the whole crunchy, salty concoction in buttery sweet toffee.
This gang of movie munchable classics was just meant to hang out with the boys of Entourage. Rip open a bag and hug it out with Vince, Turtle, E., and Drama when the HBO hit blasts onto the big screen. "Entourage" opens June 5.
Milk Movie Chocolate Peanut Butter Bites
Whoever first paired milk chocolate with peanut butter was brilliant. We are confident that we do this extraordinary invention justice with our creamy drops of smooth perfection: Milk Chocolate Peanut Butter Bites. An obvious movie chocolate advantage? They don't make noise during a suspenseful scene!
If you can stop after just one of our little morsels of pure milk chocolate mixed with old-fashioned peanut butter, we'd say that you've accomplished a Mission Impossible! Look for Tom Cruise's return on July 31 in "Mission: Impossible Rogue Nation."
Caramel Marshmallow Puffs Memories
Did you spend Monday nights back in the mid-1960s drooling over the suave U.S. operative Napoleon Solo and his sultry sidekick, Russian Illya Kuryakin? If not, chances are that your mother or grandmother did! As they watched with dreamy eyes, a creamy, caramel marshmallow candy melted in their mouths. Asher's Caramel Marshmallow Puffs will evoke those fond childhood memories.
Each puff is individually wrapped and presented in a beautiful gift box. What a lovely present for the unselfish, giving women who have brought such sweetness into your own life! But don't be surprised if they hide it from you! You can tuck a couple of tickets for the August 14th opening of "The Man From U.N.C.L.E." into the gift box and treat your loved ones to a date with their childhood dreams and memories.
Which of the many exciting summer movies are you eager to see, and which of the many exciting Asher's movie chocolate treats do you plan to pair with it?