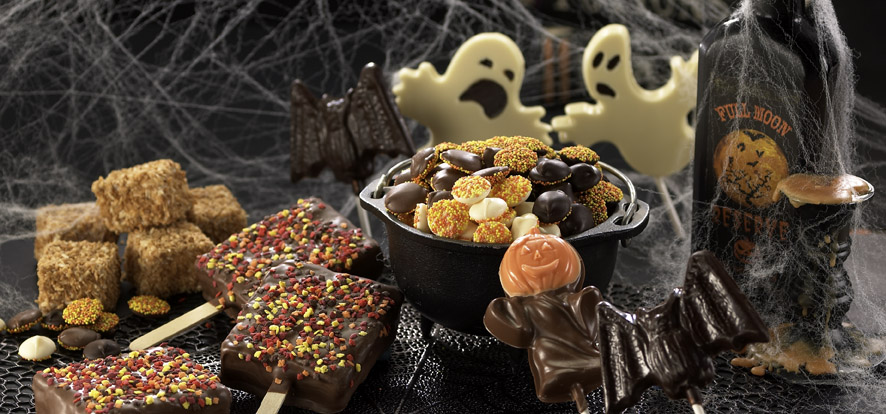 With the leaves turning and the air rapidly cooling, we all know that fall is upon us. Despite our farewell to the warmer months, we still have a few things left to look forward to this year. Coming up soon is Halloween, one of the most magical days of the year–especially for fans of tasty chocolate treats! For some, this means going to the discount store and loading up on cheap chocolates. For others, however, it means picking out tasty treats from our line of specialty candies. Here are our top sweet treats for this season.
Few things delight the tongue more than the perfect mixture of salt and sweet flavor. Our milk chocolate covered pretzels promise to engage your trick-or-treaters with the kind of sweet crunch that we have made so popular over the years. Each bag contains a four-ounce serving of pretzels. This little treat is the perfect handout for hungry trick-or-treaters who deserve just a little bit more. Unmatched chocolate quality and premier craftsmanship make these treats much more special than your average pretzels.
Bat, Ghost, and Halloween Pops
Bring some fun shapes, color, and flavor into the lives of your hungry little monsters this Halloween. Our assortment of spooky candy pops are each made with the creamiest of milk, dark, and white chocolates. Our ghost is made completely of white chocolate, our bats are comprised of gourmet dark, and the Halloween cat has a little bit of everything. These pops are the perfect size for the hungry snacker who wants a taste of the best Halloween candy in town.
The dictionary defines a nonpareil as something "unrivaled or matchless". It also defines the word as "a flat round candy covered with sugar sprinkles." We believe our dark chocolate nonpareils to match both definitions with ease. These creamy chocolate rounds are covered in crunchy fall seeds and bagged up for consumption. The autumn-inspired colors, gold and orange, will wow your eye before exciting your taste buds. We also carry these nonpareils in white chocolate as well. Variety is the spice of life, and chocolate is our vessel of choice!
Halloween is a special chance to share higher quality treats with the people around you, and Asher's is the perfect way to do so. We are a family owned business that has been in operation for over four generations. Our chocolate candies are the finest around due to the freshness of our ingredients and the love we put into our labor. So, spread an extra bit of tasty cheer this spooky October!