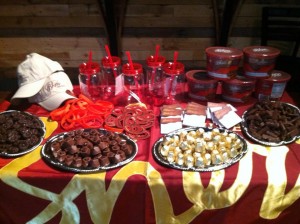 Chocolate and beer aren't traditional pairing partners, but America's beer selection has come a long way over the few decades. The two work surprisingly well! And, what could be more luxurious than pairing your favorite weekend beverage with the satisfaction of creamy chocolate? With the broad variety of craft-brewed beers available today, there are dozens of beer varieties. In fact, beers now tend to have just as much depth and character as wine. This leaves chocolate connoisseurs with plenty of potential flavor matches just waiting to be made. But, much like online dating, it's not a trivial task to make that perfect match.
Asher's Chocolate and Round Guys Brewing Company met at the Round Guys Pub in Lansdale, Pennsylvania to find just the right combinations: marrying their robust brews with the perfect silken chocolate treat, to bring out the best in each!
If you missed the Beer and Chocolate Tasting event on June 2nd, keep reading to get a taste of what you missed!
A medium yeasty Saison aged over slightly tangy mangoes and cherries makes the Round Guys' most beloved beer a treat for experienced palates. Added aromas of tropical citra bittering hops are tamed by the natural sweetness of honey. Asher's dark chocolate cherry cordials similarly walk the wire between tarty sweetness and the pleasing bitterness of rich dark chocolate. Together, they are a luscious combination for taste connoisseurs.
Amateur Hour – Russian Imperial Stout paired with Espresso Truffles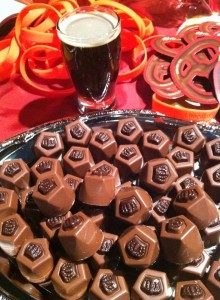 Silken rich espresso truffles are a marvelous complement to a bold beer with a mature roasted character and dark hops. Not too dry, with medium balance and lingering cherry undertones, the Russian Imperial Stout has a high alcohol content and is not a drink for amateurs, despite the name!
Citrus hops and prominent caramel malt in this golden pale ale heighten the experience of the dark chocolate, and vice versa. The two alternatively enhance the flavor of the other. Fruity notes bring out the creamy character of the dark chocolate, while the Brett hops and bitter note of dark chocolate play see-saw, leaving you with a crisp, light finish on the tongue.
Round Guy Adam's Psychedelic Breakfast Maple Brown Ale paired with Asher's Milk Chocolate Covered Pretzels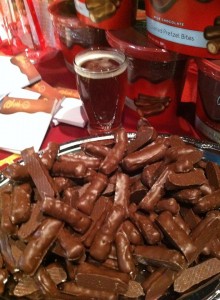 No boring brown ale here! Round Guys have concocted a complex ale featuring roasted caramel and chocolate characters with hints of warm maple syrup and vanilla bean, which naturally enhances the hearty sweetness of Asher's milk chocolate covered pretzels. Satisfy your yearning for traditional flavors and depth with this pairing!
So, next time, leave the wine behind. Nothing beats a pint in one hand and a piece of Asher's chocolate in the other! Visit Round Guys Brewing Company and Pub at 324 W. Main Street, Lansdale, PA.