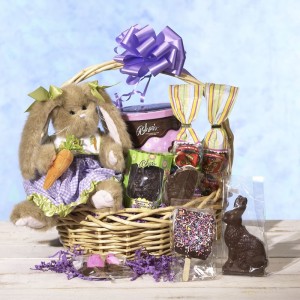 With Easter just around the corner, it is time to start thinking of bunnies, baby chicks, and chocolate! Putting together Easter baskets and getting yummy Easter gifts are two of the most fun parts of the holiday.
There are many creative ways that you can celebrate Easter and by letting Asher's be a part of your festivities you can rest assured that you will have a top quality product made from the freshest, purest ingredients.
There are so many delicious sweet treats at Asher's it is pretty tough to choose just three, but we thought we would share with you our three top sellers. These delectable confectionary creations are what you, Asher's loyal customers, enjoy the most.
12 ounce Solid Sitting Rabbit – Milk Chocolate
Why settle for a flimsy, hollow chocolate rabbit when you can have one that is solid milk chocolate through and through? This bunny is 12 ounces of solid milk chocolate from his perky ears right down to his fluffy little cotton tail. Which brings us to the eternal question: Which end do you start with when you get a chocolate bunny? Are you an ear person or a tail person?
Regardless of whether you start at the ears, tail or somewhere in between, you will certainly appreciate the finely molded, velvety, rich chocolate. It is the perfect addition to any Easter basket. Young and old alike will be absolutely delighted to find this among their Easter goodies!
16 ounce Milk Chocolate Coconut Cream Egg
If your own little bunny likes a little variety in their basket, this classic coconut cream egg could be a great choice. It still has the luscious milk chocolate but inside is a creamy, sweet, long shredded coconut center. The egg also has a pretty little edible flower on top for just the smallest accent. It comes in an attractive, floral box that is perfect for gift giving. You can give it by itself or place it in an Easter basket for a sweet surprise.
If you are looking for Easter gifts that appeal to all ages, this is one that will score you a home run! This milk chocolate coconut cream egg is one of our most popular sellers – and with good reason! It is absolutely awesome!
"Baby Carrots" Large Easter Basket
You get the whole package with this Asher's favorite. This huge Easter basket is the perfect gift for a whole family or to share with friends! It is the Easter gift to end all Easter gifts with several Asher's goodies inside. The pretty woven basked has a lovely bow and all the sweets within are guarded by an adorable 10 inch Bearington Bear "Baby Carrots" plush bunny. And what is he guarding? It's quite a list, but here goes:
10 oz. Easter Pretzel Bite Tub
4 oz. Milk Vanilla Butter Cream Egg
3 oz. Crisp Rice Pop
1.5 oz. Easter Pop
1.25 oz. Chocolate Dipped Peeps
6 oz. Jelly Belly Milk Chocolate Foiled Wrapped Eggs
7.5 oz. Jelly Belly Pectin Jelly Beans
6 oz. Milk Chocolate Solid Rabbit
Of course, we have many more selections on our website – something for every taste and temptation. There is sure to be something that is just right for you. We also have an absolutely delicious and extensive line of sugar free chocolates, some of the best you'll find anywhere. So when you think chocolate, think Asher's. It just isn't Easter without us!
What are your favorite Easter gifts? What is your favorite part of the Easter holiday? Is Asher's a part of it? Let us know in the comments below!