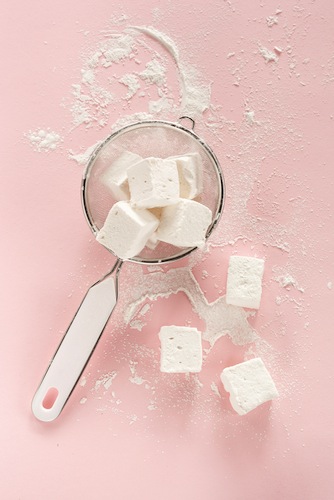 Marshmallow is the sweet that often gets overlooked unless it's used to top off a cup of cocoa. This saddens us, because a soft, homemade marshmallow is quite unlike anything you'd buy in a bag.
So, we'd like to highlight a few flavor profiles that you just have to try! Some are new recipes, and some are old, but Asher's would never lead you wrong. Discover ways to sample each of these by adding them to your baking repertoire, or by trying one of our own confections combining marsh with something special, and chocolate – always with chocolate!
Marshmallow and Toasted Almond
Rocky Road Chocolate Bars
Rocky Road ice cream was invented during the Great Depression, but the popular combo could still put a smile on kids' faces for decades afterward. All the same flavors you loved as a kid: endless milk chocolate, fluffy marshmallow and the crunch of toasted almonds.
Smooth with a bit of crunch, this nostalgic chocolate bar gives you little bits of all your favorite things, wrapped into a sheet of Asher's milk chocolate to create a generous 4 oz. Rocky Road treat.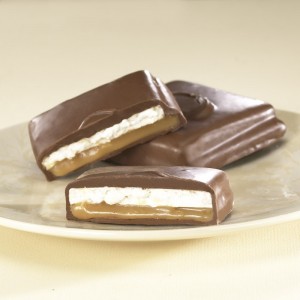 Chocolate Caramel and Marshmallow Squares
You don't often see caramel paired with marshmallow, but few realize how creamy caramel tempers the sweetness of marshmallow in a big way! This 4-ounce square is covered with a layer of thick chocolate, then packaged as a single treat–just for you!
Discover what everyone else is missing out on as soon as you sink your teeth into the first bite of our milk chocolate caramel and marsh squares. For dark chocolate lovers, we've got you covered too, with a deeper, more luxurious version of the same spectacular flavor combination.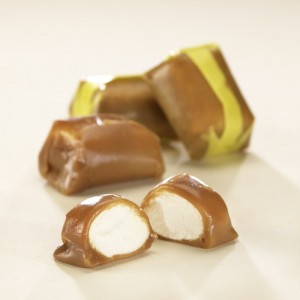 Caramel Marshmallow Puffs
On a lighter note, there are others who crave something a little less dense. And for those, we have caramel marshmallow puffs!
You can't find these little pillows of sweetness just anywhere. Asher's keeps these addictive little treasures on the menu for people who remember them from their childhood. Hard to find in stores, you'll recall how the buttery caramel melts to reveal a tender marsh sweetened with vanilla.
Bring back a sweet memory from your past when you pop our fresh marshmallow puffs into your mouth. Bite-sized and even better than you remember.
Sharon Z. gives them Five Stars and writes, "Simply heaven! Amazing marshmallow texture. The caramel is so delicious and creamy. I could eat these every day. I want more!"
Marshmallow and Graham Crackers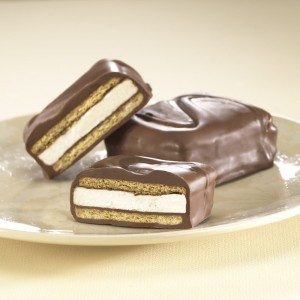 Milk Chocolate S'mores Bar
Not a new one here, but still a classic. Camp out on the couch with Asher's Milk Chocolate S'mores! Treat yourself to a cup of cocoa and a single s'mores chocolate bar for times when you want the campfire feel, but can't get away to indulge. Caramel-flavored grahams and oozy marshmallow are dunked once, and then dunked again, in fresh milk chocolate, for a generous s'more with the chocolate on the outside. All that's missing is the smoke and the ghost stories.